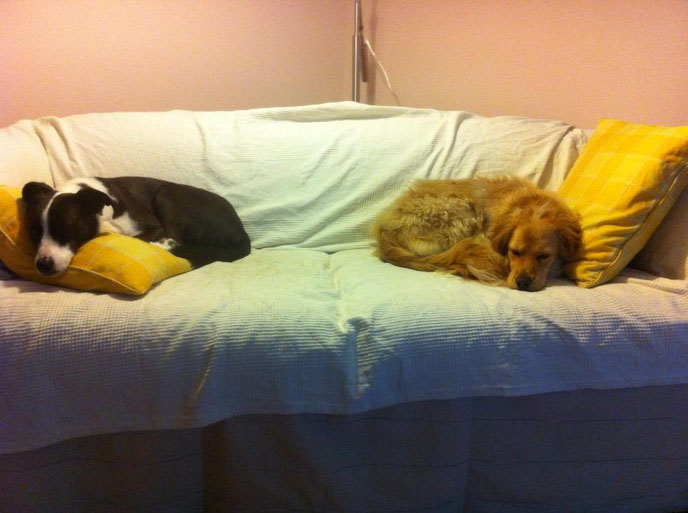 Have you ever wondered why your dog doesn't come when you call her? Or why she destroys your flat while you're not home? You were probably thinking that she's a mean dog who's just not thankful for everything you do for her. You were wrong. The secret of bulding a good relationship with your dog lies in understanding her way of thinking.

Home alone
The reason why your dog devastates things is not nastiness but separation anxiety – simply fear. If you allow your dog to walk everywhere with you, even at home, she will be so bound to you that staying alone will cause a huge stress. If you know that chewing release stress, you will understand why your dog chews these things. Of course, it's a very complex issue, so if you don't know how to handle it, ask a specialist.
Growling
Growling. I adopted my dog from an animal shelter when she was about 1 year old. Soon I realized that she defends her food. Everytime I tried to come closer while she was eating she started to growl silently. Apart from that, she was the cutest dog in the world. So what did I do? I didn't "dominate" her, but instead from that moment she was eating from my hand. She learned very quickly that my hand gives food. Than I started to hold the bowl in my hands. While she was eating I was throwing in some real good stuff – sausage, meat, etc. Long story short, she learned that everytime I come closer while she's eating, something really delicious will fall into the bowl. Result: "Hey! No reason to growl, because nobody steals my food!"

Recall
Recall. Let's assume, you take your dog for a walk. You let her run off the leash and try to recall her when you want to go home. After few times your dog will learn – I'm being recalled so the fun is over. What would you do, if you were your dog? You wouldn't come! "Just 5 more minutes! Come on! This bush over there smells so interesting, and those dogs want to play and and and…" Even worse would be to punish your dog when she finally comes back. She will learn: "Damn it! I'm being recalled, come back and my owner is angry. Not good, next time I'll better stay away." Solution: you have to show your dog that you're really cool and it's always worthy to come to you. Always praise her for coming back with goodies, your attention or play. Soon, she will come with love every time!

Actually, dog think very simple. So simple, that it's seems complicated for us. So don't give your dog food while your eating if you don't want her to beg in the future. Don't force your dog to do things you want, just because you want it – show her that it's worth it! Praise the right behaviour, ignore the wrong. Think dog and keep it simple!

---
---